What Lynchburg Homeowners Need To Know About Termite Control  
4/15/2021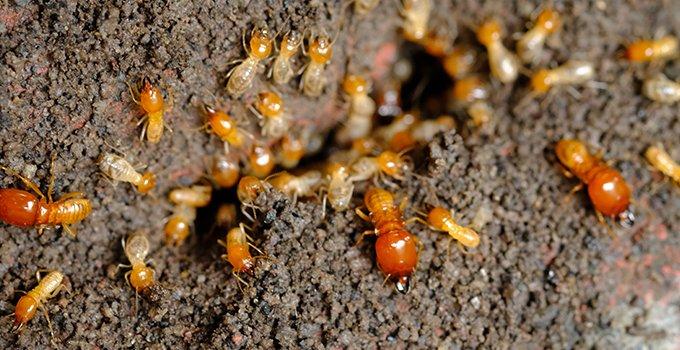 Living in the small town of Lynchburg does not exempt you from dealing with big-city pests, and in the case of termite activity, you won't be able to escape that no matter where you live! Termites create big problems for Lynchburg homeowners, especially in recent years. A rise in humidity levels, rainfall, and general mold has created a spike in wood rot and termite infestation not likely to abate any time soon. After all, they don't call this place 'Drenchburg' for nothing!

Believe it or not, there are thousands of termite species found around the world, but only three major species that stick around Central Virginia. These species include:
The Drywood Termite

The Dampwood Termite

The Subterranean Termite
Despite small differences between species, termites are best identified by their long bodies, yellow or cream colors, and large mandibles. They can usually be spotted in damp or undisturbed places, particularly leaf piles, firewood cords, and rotting fence wood. While we know these creatures can be extremely destructive, termites are actually extremely beneficial when found out in nature. Their ability to break down the cellulose in wooden objects keeps forests healthy and wood refuse at a minimum.
This efficiency comes at a price, however. Termites cause over five billion dollars worth of damage in households worldwide, and this number is only continuing to rise. If you are concerned about termite activity this spring, the time to start preparing against it will be right now.
Why Spotting Termite Problems Are So Hard
Finding a termite infestation around your Lynchburg home can be difficult at first. These quiet bugs are very sneaky and incredibly unobtrusive, making them hard to track down. More, they rarely give away signs of their presence until it's too late. Here are some signs to be on the lookout for in your Lynchburg home:
Frass (or fine sawdust) piles forming around holes in the house.

Doors and windows that fit too tightly in their tracks.

The sighting of winged termites (called alates or swarmers) around the inside of the house.
Finding the shed wings of termite swarmers inside or outside the home.
Getting an annual termite inspection is a fast and simple way to address each of these issues without having to live in a state of constant awareness. Speak with an All Pest Control & Solutions representative to receive annual termite inspection services that include:
Pest monitoring and trapping

Inspections both inside and outside the house

Valuable tips and suggestions

Monthly, bimonthly, or quarterly pest inspections
To get your annual termite inspection completed, or to have your home pre-treated against termites with the help of some professional products, don't hesitate to schedule an appointment with All Pest Control & Solutions at your earliest convenience.
Scheduling Termite Inspections With All Pest Control & Solutions
There's nothing quite as disquieting as a termite infestation. From property destruction to the decay of important structural supports, the presence of these bugs anywhere on your property will leave you with many important decisions to make. If you do catch wind of a termite infestation brewing under your nose, it will be important not to waste any time or money. Instead, call up the willing crew at All Pest Control & Solutions for immediate assistance in your Lynchburg home.

All Pest Control & Solutions has been serving Central Virginia and the surrounding area for many years, delivering quality termite control measures to hundreds of households and businesses. If you are ready to take a stand against termites this spring, we can help. Call All Pest Control & Solutions for annual termite inspections that can't be beaten!