Stop Swatting At Mosquitoes With Help From All Pest Control
Mosquitoes can completely ruin a beautiful day outdoors. Their bites sting and then itch, leaving irritating red bumps for days after the bite. Not only will the mosquitoes chase you back indoors from their itchy bites, but they also put you at risk for serious diseases, including the West Nile virus from their bites.
If you find yourself spending all of your time swatting at mosquitoes when you're trying to enjoy a BBQ or playtime in the backyard with your kids – you need mosquito control from All Pest Control & Solutions. Serving Roanoke and surrounding areas, as well as Christiansburg and the New River Valley area, our team is ready to help you take back your outdoor living space.
Our Mosquito Control Process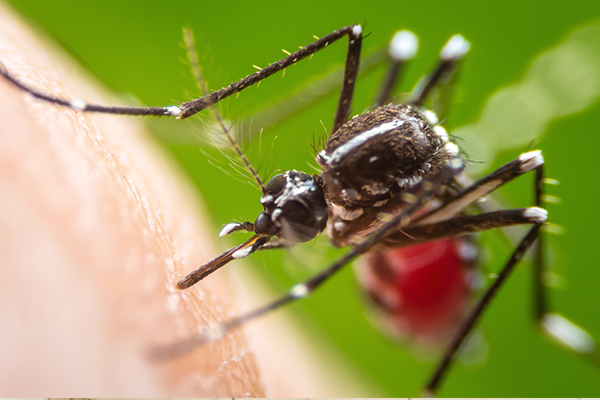 As with all of our pest control solutions, we take an Integrated Pest Management (IPM) approach to eliminating problems with mosquitoes. We consider the mosquito life cycle and how they interact with the environment to develop pest control methods to reduce or eliminate the pest with the least amount of hazards to the people, property, and environment. Our mosquito spray treatments will reduce the population of mosquitoes during the peak mosquito season in Virginia, and our IPM approach emphasizes long-term, preventative strategies such as eliminating mosquito breeding areas.
To reduce adult mosquitoes and prevent mosquitoes from breeding, All Pest Control & Solutions follows a three-step process.
Step 1: Initial Mosquito Inspection
One of our licensed pest control technicians well-versed in mosquito behavior and treatment methods will identify the areas on your property where mosquitoes breed and where they rest and look for any conditions that may encourage mosquito activity. If necessary, the technician will recommend removing potential breeding areas for a long-term mosquito prevention strategy, basically anything that collects and holds stagnant water.
Step 2: Initial Mosquito Control Treatment
The initial mosquito treatment will include treating the areas of your property where mosquitoes are likely to hide and rest and treating any obvious breeding grounds such as stagnant water and wetlands.
Step 3: Ongoing Mosquito Control Treatments
Throughout the mosquito season between May and October, a mosquito control technician will return to your property every 45 days to re-apply treatments to continuously prevent mosquitoes during their peak season so you can enjoy life outdoors without the fear of mosquito-borne diseases and discomfort from their bites.
One-Time Mosquito Treatment Option
Call All Pest Control & Solutions for one-time mosquito treatment if you don't need continuous mosquito control but would like to host an outdoor event in comfort. One-time treatments are ideal for outdoor events such as weddings, family reunions, large backyard barbecues, birthday parties, or corporate events. We'll visit your property about a week to three days before the event and treat the area for mosquitoes. The treatment will significantly reduce the number of biting mosquitoes to make your big day even more enjoyable for you and your guests!
All Pest's Mosquito Control Warranty
100% Satisfaction Guaranteed. If pests return, so do we. If you are getting bit by mosquitoes between your scheduled treatments, give us a call, and we will return to apply another treatment.

Mosquito FAQ
Why do mosquitoes bite?
Only female mosquitoes bite and only because they require a blood meal to mature before laying. Both male and female mosquitoes consume plant nectar for their nutrition.
How do I prevent mosquito bites?
The CDC recommends implementing the following mosquito prevention tips:
Use insect repellent that is registered with the EPA.

Wear long-sleeved shirts and long pants.

Use screens on windows and doors.

Empty toys and other items that hold water, including wheelbarrows, planters, trash containers, and birdbaths.
When are mosquitoes most active?
While it varies by species, typically, mosquitoes are most active at dawn and dusk. If you're planning an outdoor activity or event, All Pest Control & Solutions recommends avoiding those peak hours.

Schedule Your Free Inspection
Complete the form below to schedule your no obligation inspection.