Stop Termite Damage In Roanoke, VA & The New River Valley Region
Termites cause billions of dollars in property damages every year in the US, eating their way through the wood of homes and businesses. A single termite colony could have a million termites and cost property owners on average over $3,000 to repair the damages they inflict.
If you're concerned about possible termite damage in your Virginia home or business or simply want to keep these wood-destroying insects away, All Pest Control is ready to help with effective termite control.
Our Termite Control Process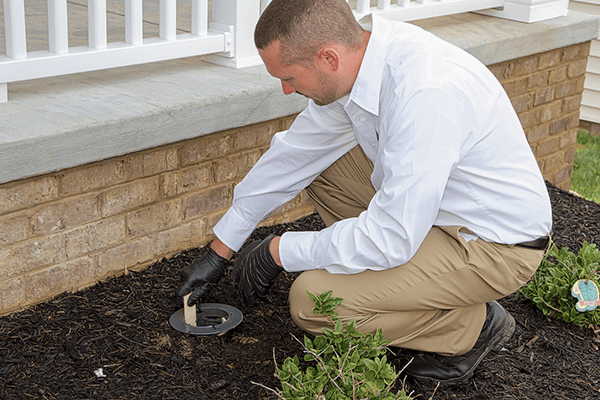 At All Pest Control, we follow a proven four-step process for identifying, eliminating and preventing termite activity for our residential and commercial customers.
Step 1: Professional Termite Inspection
One of our certified WDI inspectors will visit your property to conduct a thorough inspection to discover any existing termite activity, evidence of termite damage, and signs of termites and/or termite activity, such as mud tubes on the structure's foundation.
Step 2: Termite Spot Treatment
If termites or signs of termites are present, the technician will provide an estimate for termite control services. The technician may perform a spot treatment to keep termites at bay in the meantime, and an appointment for liquid termite treatment is then scheduled.

Step 3: Application Of Liquid Termite Treatment
A termite control expert from All Pest Control will return to your property to apply a liquid Termidor® termiticide/insecticide termite treatment. This is an odor-free liquid that will be expertly applied along the outside perimeter and foundation of the property to create a "treatment zone" that termites will cross through. Termites are unaware of the Termidor treatment zone and do not attempt to find ways around it the way they do most termite repellant products – making it extremely effective in eliminating the termite colony. As they walk through the zone, they eat materials that have the treatment on it or get the liquid on their bodies.

Step 4: Maintenance & Monitoring
All Pest Control will return to your home to inspect and monitor the effectiveness of your termite treatment. Over time, landscaping or home improvements can affect the ability of the termite treatment zone to do its job, so follow-up inspections are necessary to ensure the treatment zone hasn't be disrupted. Monitoring devices may be used to detect possible new termite infestations.

Termite Reports for Buying and Selling Homes
If you sell the house, we'll even take care of the paperwork required for a Wood Destroying Insect Report (Form NPMA-33) and can offer termite pre-treatments when required for the sale or purchase of a home. Click here to learn more about WDI inspections and reporting.
Termite Damage Warranty
All Pest Control termite treatments come with your choice of either a one or five-year warranty. Our five-year warranty includes annual termite inspections and treatments priced at the locked-in rate you purchased with the warranty. Termite warranties from All Pest Solutions are renewable and transferable.

Termite & Termite Control FAQ
How does Termidor® exterminates termites?
Considered America's leading termite defense product, Termidor works in multiple ways:
Termites eat materials treated with Termidor and die
Termites come into contact with Termidor and die
Termites come into contact with other termites that have walked through the Termidor Treatment zone, and die
How do I know if I have a termite problem?
According to the National Pest Management Association, signs of a subterranean termite infestation include:
Termite swarmers or discarded wings.
Mud tubes often found near a structure's foundation.
Wood damage that is not always visible as termites eat wood from the inside out. If you hear a hollow sound when tapping on wood, that often means termites are at work.
Uneven or bubbling paint could mean termites or water damage (which attracts termites).
Subterranean termites live in colonies below ground so you may discover white bugs in the soil around the foundation as well.
How much does it cost to treat termites?
The cost of termite treatment depends on several factors including the type of construction and the size of the structure. At All Pest Control, we perform an inspection and from there develop a termite treatment plan based on our customers' specific needs. We'll always provide an estimate for service before treating for termites. If you're concerned about termites in your home or business, please schedule your free inspection.

Schedule Your Free Inspection
Complete the form below to schedule your no obligation inspection.