Protect your home and business with all pest
Now more than ever, our experts at All Pest Control are aware of the importance of disinfecting work and home spaces. That's why we're offering disinfecting services that will help keep your space clean and your family, employees, and loved ones healthy. With COVID-19 at the forefront of our mind, you can rest easy knowing that All Pest will help keep your spaces clean.
Our Disinfecting Process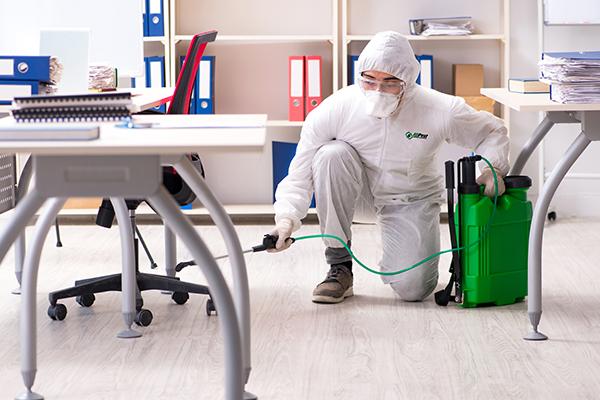 Coronavirus has likely left you thinking that you need to find ways to disinfect your space.
Our experts at All Pest have come up with a professional disinfecting process that will rid your building of unwanted pathogens such as coronavirus. Furthermore, our process is effective against other health-related concerns such as those you will likely deal with in the aftermath of a pest infestation.
Though coronavirus is a new problem for members of our global community, the experts at All Pest already have the experience and tools needed to disinfect and sanitize buildings. We have done our research and found a product that is EPA approved to kill COVID-19 as well as other enveloped viruses.
We are proud to use Nisus-DSV, a disinfectant, sanitizer, and virucide which we believe is the best product to destroy COVID-19 as well as other unwanted pathogens including hantavirus, E. Coli, hepatitis B and C, staph, strep, and others.
Contact Us Today
Today, disinfecting your shared space is about protecting those around you and is therefore more important than ever. Our team at All Pest has the experience needed to keep those you care about most safe and healthy. We are equipped to disinfect most public spaces including office buildings, healthcare facilities, restaurants, gyms, schools, and others. Reach out to us today to speak with one of our experts about our disinfecting services so that you can enjoy the peace of mind that comes with a sanitized space.

Schedule Your Free Inspection
Complete the form below to schedule your no obligation inspection.