Professional Pest Control for Christiansburg Homes & Businesses
The beautiful Town of Christiansburg, Virginia, provides the perfect backdrop for its lucky residents and visitors. This quaint town is located between the Blue Ridge Mountains and the New River.
Christiansburg is known as "the place to be" because of its ability to provide people with easy access to many different recreational, business, housing, and educational opportunities. Christiansburg also offers residents easy access to pest control with the help of All Pest Control & Solutions.

All Pest Control & Solutions offers affordable, dependable, and modern pest control solutions to home and business owners. We protect people and property from invasive pests like ants, rodents, termites, bed bugs, and more! To learn more about our quality pest control services, give us a call today.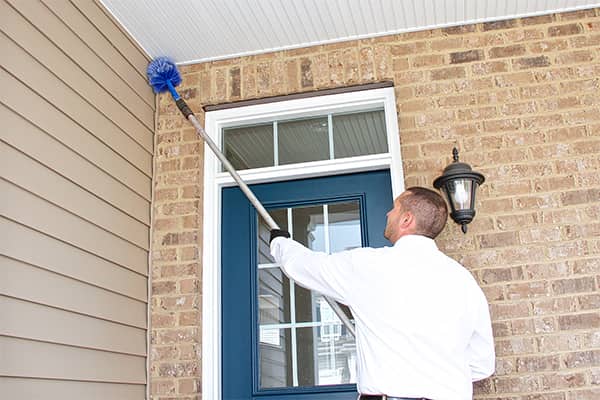 Home Pest Control In Christiansburg, VA
For the year-round protection, you need to keep common Virginia pests out of your home; turn to All Pest Control & Solutions and one of our three affordable, seasonally designed home protection plans. Each of our three programs provides year-round protection against invasive household pests.
All Pest Essential: General pest control

All Pest Plus: General pest control and termite monitoring

All Pest Complete: General pest control, termite monitoring, and seasonal exterior tick control
Get started today keeping your home, belongings, and family protected against pests and the potential dangers and damages they can cause. Implement one of All Pest Control & Solutions year-round pest control programs. Call us today to learn more.
Christiansburg, VA Termite Control
Termites are a species of wood-eating pests that live across the United States. They are social creatures that live and work together in large colonies. Termites spend most of their lives inside of the wood they are feeding on or underground. People rarely see termites while causing structural damage, so it is essential to know the signs of their presence.
Mud tubes running across your yard or traveling up your home's foundation or basement walls.

Termites travel back and forth from the nest to their food source in these tubes to maintain their moisture needs and stay out of sight of predators.

Bubbling or splintering along baseboards or drywall that is in your home.

Doors and windows that are no longer opening or closing correctly.

Sagging floors or ceilings.

Wood in your home sounds hollow when you tap or knock on it.

Floors that feel "spongy" when you walk across them.
At the first signs of a termite infestation, immediately contact All Pest Control & Solutions. We can quickly come to your property, identify the extent of the problem, and eliminate them through our highly effective termite treatments. To schedule a wood-destroying insect inspection for your Christiansburg property, get in touch with us today!
Rodent Control In Christiansburg, VA
Preventing rodents from invading your Christiansburg home or business is vital. Rodents spread diseases that can make people ill; they contaminate food sources, cause structural damage, destroy personal property, and create sleepless nights.
To help protect your home from rodents, All Pest Control & Solutions offers highly effective rodent control services. Our services include inspection, rodent baiting, and rodent exclusion. It can be completed as a one-time service or extended to provide ongoing control against rodents. Give us a call today to learn more about working together to protect your home and family from rodents.
Bed Bug Control For Christiansburg, VA Homes & Businesses
Bed bugs are invasive pests that can potentially enter any Virginia home or business. Once inside, they hide during the day in tight cracks and crevices. They emerge at night to feed on the blood of their sleeping victims. Bed bugs are pests that require professional control to ensure that the infestation has been eliminated in its entirety, so a re-infestation does not occur.
At All Pest Control & Solutions, we have the modern bed bug solutions needed to solve any size bed bug infestation in any home or business. To begin eliminating bed bugs from your home, we provide a phone consultation and then schedule a service date. We treat the bed bugs living inside your property at the time of service using both conventional and steam treatments. Your property's mattresses, box springs, furniture, baseboards, and the cracks and crevices where bed bugs hide will all be treated. Additionally, our bed bug control service comes with a 90-day bed bug guarantee. Contact us today to learn more about protecting your home or business from bed bugs.

Schedule Your Free Inspection
Complete the form below to schedule your no obligation inspection.