Professional Pest Control For Copper Hill, VA
Homes & Businesses
A little south of Roanoke, Copper Hill is a small community located in the beautiful Virginia countryside. Wooded areas like ours tend to have plenty of pest populations around, and pests target our properties because of the food, water, and shelter found within. That's why Copper Hill residents need to learn how to prevent and react to pest problems the right way. At All Pest Control & Solutions, we can help you every step of the way.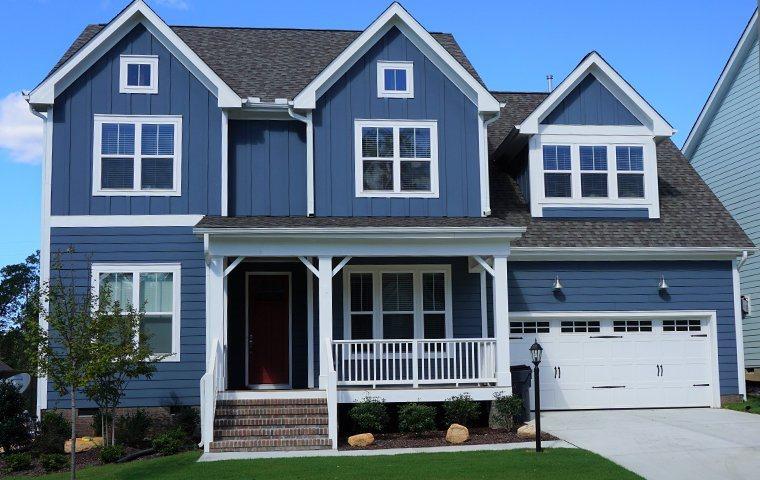 Home Pest Control In Copper Hill, VA
It's not just pests themselves that are an issue. There are all kinds of problems that can settle in, from mold and mildew to property damage. One problem often leads to others, like the pest infestations themselves. This is why we here at All Pest Control & Solutions do more than just looking for pests or signs of their activity. We help you keep an eye out for all the issues that can befall your Copper Hill home.
Inspections: Our first step is to check for all these factors, from pest attractants to worrying signs of mold or other health hazards.

Pest Control: It's right there in our name. We offer solutions for all kinds of pests that threaten your home. If it invades your yard or structures, chances are we have a solution to get rid of it.

Moisture Control: Moisture attracts pests and leads to property damage. This is why we offer services that combat moisture buildup and help address these issues before they lead to larger ones.
To protect your Copper Hill home from the many problems that can form over time, turn to All Pest Control & Solutions today.
Commercial Pest Control In Copper Hill, VA
Business owners don't just have to worry about their profits. They have to worry about the health and safety of all the employees and customers that frequent their property. That's why proper pest control is such an important investment for commercial property owners. The consequences of a pest infestation can be severe, so turning to the experts right away can help you avoid the severe damage, loss of business, and loss of reputation that can come from pest problems. At All Pest Control & Solutions, we can help you no matter what kind of business you own:
Restaurants: One of the businesses that come to mind when you think of properties vulnerable to pests, restaurants have lots of food and drink to attract pests.

Offices: But it's not just food service properties that can attract pests. Offices have employees who have to eat, too, so food and plenty of other attractants can be found in these spaces.

Warehouses: As large properties with lots of storage space, warehouses are attractive to pests for all the nesting grounds they provide.
Let us start protecting your Copper Hill business from pests today by contacting All Pest Control & Solutions.
The Ultimate Guide To Making Your Copper Hill Home Unattractive To Rodents
Rodents, like all pests, are looking to target properties that offer the most resources and easiest access. That means, to protect your home from an invasion, you really need to reduce the things that attract pests like rodents in the first place. Here are some of the things that you need to pay attention to:
Food: Rodents can chew through flimsy food packaging and scrounge for crumbs or spills. Proper storage and clean-up are important.

Water: Rodents need water to survive, too, which is why moisture can also be a big attractant. Eliminating excess moisture and quickly addressing plumbing issues can be a big part of pest control.

Access: Rodents can dig, bite, and scratch your home's exterior to open up access points. But they prefer entry points that are already there, which is why quickly addressing maintenance issues can help you reduce the damage that allows pests to get inside.

Inspections: To account for all these different factors, it's important to turn to the experts for thorough inspections. At All Pest Control & Solutions, we're trained to look for all these problems and more.
Not only can All Pest Control & Solutions check your home for pests, but we can also get rid of them. Contact us right away if you notice a problem, or turn to us for guidance on preventing infestations in the first place.
What To Expect From Your Real Estate Inspection In Copper Hill
Part of keeping your home value is quickly addressing problems as they arise. But the only way to nip problems in the bud is to have thorough inspections by trained professionals. At All Pest Control & Solutions, we know how to check for problems like moisture damage, pest infestations, and similar issues before they can seriously damage your home. Here's what you can expect:
Comprehensive Inspection: Our trained technicians will check for all kinds of issues, making sure to look at your exterior, interior, yard, and all storage spaces where pests can hide evidence of problems.

Documentation & Recommendation: Next, we make our treatment recommendations and provide you with documentation that breaks down everything we did.

Follow-Up: With All Pest Control & Solutions, we form an ongoing partnership to ensure your needs are always met. That's why we follow up with you a little after your inspection to make sure you're still satisfied.
Keep your Copper Hill home looking clean and healthy by turning to All Pest Control & Solutions for a real estate inspection today.

Schedule Your Free Inspection
Complete the form below to schedule your no obligation inspection.