Carpenter ants are often confused for other wood-destroying pests like termites, but they are very different from these other critters. You can get all the information you need about this pest in Virginia by reading our guide below.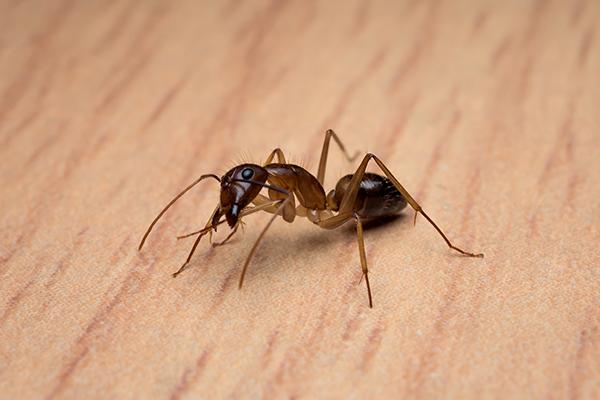 What are carpenter ants?
Carpenter ants are wood-destroying pests, but they don't consume wood like termites. Instead, they tunnel through softwood to create galleries where they can live close to sugary food sources.
Carpenter ants are identifiable by the following traits:
Black or dark reddish coloring
Between 1/2 and 5/8 an inch long, the largest of any home-invading ant species in the United States.
Are carpenter ants dangerous?
Carpenter ants don't bite or spread disease, but they can contaminate open food. The biggest concern about this pest is the damage it causes to homes that experience an infestation.
Although they are not as destructive as termites, carpenter ants can still incur severe structural damage and, if left unaddressed, can lead to weakness and perhaps collapse.
Where will I find carpenter ants?
As previously mentioned, carpenter ants are attracted to damaged wood, so if you have recently experienced a leak or moisture issue, check affected areas first for signs of this pest. Signs of carpenter ants include frass, which looks like sawdust, and smooth damage to wood compared to the rough, unorganized damage of termites.
Once carpenter ants make it into your home, it can be challenging to find them since they live inside the wood, but they will still come out to forage for food, so keep an eye out for large black ants.
How do I get rid of carpenter ants?
As you can see, carpenter ants are unlike any other species because of their nesting habits. Because of this and several other reasons, you should look to pest control experts for assistance with removal and prevention.
Other reasons why expert assistance is necessary for carpenter ants include difficulties in treating them, the conditions they infest under are conducive to mold, and how easy it is to confuse the carpenter ant damage for termite damage.
All Pest Control & Solutions can help you if you suspect carpenter ants on your property. Not sure if it's carpenter ants you're dealing with or another wood-destroying pest? No worries, call us at All Pest Control & Solutions for a free inspection to identify the pest.
How do I prevent carpenter ants in the future?
If you are not currently experiencing a carpenter ant infestation, you can use these tips to help prevent one from happening:
Seal any cracks in your home's exterior to eliminate entry points.
Remove organic debris from your yard, especially close to your home's foundation, to reduce moisture and lessen conducive conditions.
Clean up any food debris in your home, store open food in air-tight containers, and use garbage cans with tight-fitting lids.
If you experience leaks or flooding, ensure you dry all affected areas properly and replace anything that you cannot dry out completely.
Use dehumidifiers where necessary to reduce moisture.
If you currently have a problem with this pest, these prevention methods won't eliminate an active infestation. Contact us at All Pest Control & Solutions and learn more about our
home pest control
and
commercial pest control
services so we can get rid of these pests.

Schedule Your Free Inspection
Complete the form below to schedule your no obligation inspection.